Tony Winner Tonya Pinkins Creates Her Own Cinematic Version Of 'Get Out'
In the opening of the film Red Pill we experience a panoramic drone shot of the stunning pastoral Virginia landscape. It is autumn, the weekend before the 2020 election. The trees are bathed in endless hues of red, green and orange.
While the setting may seem idyllic, the locale is anything but that. The reality is beyond a nightmare. In this terrifying political horror movie six liberal, progressive friends (played by Luba Mason, Kathryn Erbe, Tonya Pinkins, Rubén Blades, Adesola Osakalumi and Jake O'Flaherty) are traveling to the state to canvas voters.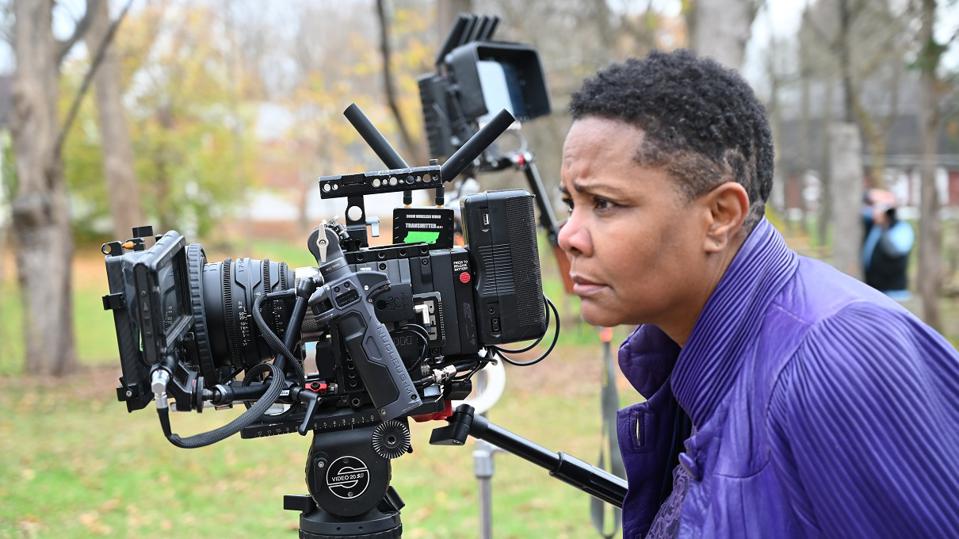 Half of the group are BIPOC. Nothing, especially the creepy house where there are all staying, seems right to them. Despite all the eerie vibes, their passion and ideals drive them to stay. Without giving too much away, their choices cost them everything.
"I wrote my own personal Get Out," says Tonya Pinkins who produced, wrote, directed, and stars in Red Pill. The film will premiere at the all-virtual Pan African Film Festival, the largest black film festival in the United States, and can be seen from March 1, 2021 to March 14, 2021. A Tony-winning veteran of eight Broadway shows, she will also soon co-star in ABC limited series Women of the Movement. Pinkins also has a popular podcast You Can't Say That on the Broadway Podcast Network.
For Pinkins, the experience of being a first time director and birthing Red Pill was transforming. "Red Pill allowed me to be the storyteller rather than the story teller's tool," says Pinkins about how she has grown as an artist and learned skills she didn't expect to need.
MORE FOR YOU
This App Is Empowering Relationships Just In Time For Valentine's Day
How Your Business Best Stands To Benefit From Embracing Automation
Tapping Into Health To Excel In Business
"I learned to advocate for my work rather than wait, expect or need anyone else to give me the opportunity to do what I was born to do. And that is to create," she adds. "It showed me that the risk and failure or creation are worth it in and of themselves."
Jeryl Brunner: Write, direct, produce, direct, star. It's hard to do any of these things individually. And you are doing all of them What were some key moments for you along the way?
Tonya Pinkins: I believe in destiny. This movie was supposed to happen because the professionals said it was impossible. And at every step of the way what was needed appeared. I kept stepping forward, trusting that would happen. We shot in ten main days, one drone day, one day with just me getting my solo scenes out of the way and one reshoot day. Thirteen days for a feature film is quite a feat. Editing was the big bugaboo. We had five editors. I eventually went to Seoul, Korea to edit the film during the pandemic.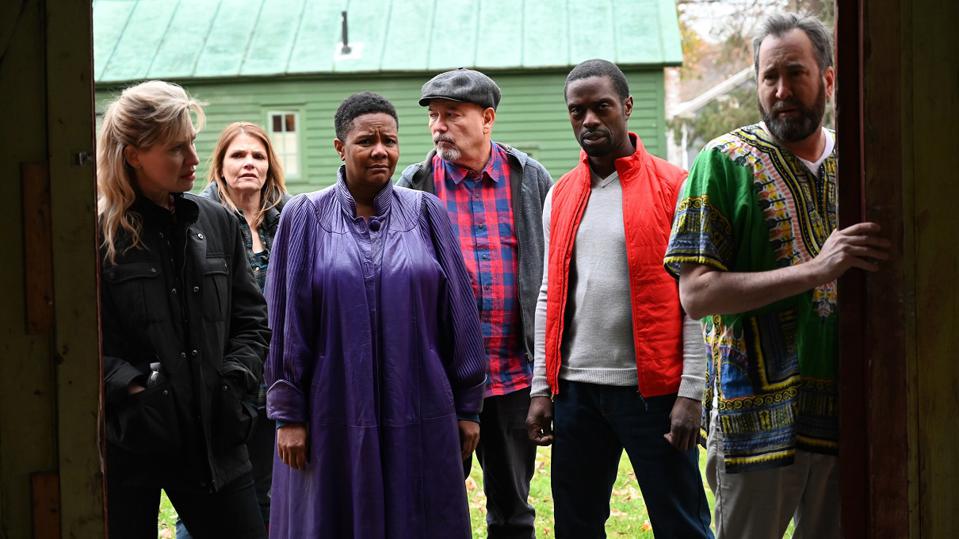 Brunner: What was the joy of making the film?
Pinkins: Making Red Pill gave me so much more respect for all artists who risk putting their vision into the world. It is such a vulnerable place to share from your heart and soul and then put it out in the world where people who know nothing of the sacrifice cost and care can simply trample your work which is a piece of your soul. And with that said, nothing can compare to the exhilaration of getting to build a world. It's like birthing a child. I loved every minute every failure because it was in service of birthing my baby.
Brunner: How about the biggest challenge?
Pinkins: The biggest challenge was limited resources and not having an experienced line producer to guide me. So I made a lot of mistakes. But you better believe I can be a line producer now.
Brunner: Can you talk about your cast and getting them on board?
Pinkins: I love this cast. I worked with Colby and Ruben on Fear the Walking Dead. But I knew them before that. Colby and I are Actor Center members and she is amazingly talented and a genuine good human.
Ruben is magic on screen and always intimidates me because he is so intense and every take he gives something interesting and different. Luba and I met when I reviewed her cabaret act for Bistro Magazine. I am a great admirer of her talent. We became fast friends. I hope this film opens up opportunities for her to do more film. She is incredible.
Adesola and I met in the lobby of the Public Theater. He is a gifted "reader" and said I had something "big" coming up. When I called to offer him the part I said I think this is what you were talking about.
Katie Erbe was perfect and when she read the script she called and thanked me for offering it to her. Cathy Curtin can do anything. She is funny, scary and just chews up the scenery every time she is in front of the camera. Jake and I go back to meeting back in West Hollywood Park when our 24 year-olds were five. He is so talented and this really showcases his work.
Brunner: The film is so visually stunning and creates a terrifying juxtaposition between the opening pristine landscape and the reality of what is happening there. Can you talk about that?
Pinkins: The pastoral is not a place that you usually associate with people of color. So I knew that would create an instant scare once you saw who was in the car beneath the gorgeous drone shots by Scott Snell.
Brunner: So many people have a creative idea that they want to birth to life, but don't have the confidence or resources. What would you advise?
Pinkins: I do believe that if it was put on your heart, it is yours to do. The next step is know that if there is a devil, perfection is the devil. A finished film/project is the most important goal. Everyone has great ideas. I do mean everyone. How many people execute even one of them to completion? Completion not perfection was my goal. I am now in a small group of people in the world who have made a feature film. I will get better if I keep making them.
So I say make what you can make with the resources you have access to. The hardest part is then being willing to take and not be stopped by the good and bad things people will say about what you made. No matter what they say, they can't take away that you brought something into the world that would not have existed if it weren't for your efforts. And it will speak to someone.
Brunner: What do you believe we need to do to create change?
Pinkins: Truth telling is needed. It is beginning to happen. Also, it's about listening to the other and expanding our individual imagination to see the world through the other's eyes. It is accepting another's experience as valid and equal to your own. We should collectively work to build a world that can work for everyone's unique experience.
Brunner: You have said, this movie "is a mirror of the American culture BIPOC people live and see every day. And that white people have the privilege of being oblivious." Can you share more about that?
Pinkins: Thanks for asking that question. BIPOC people will "get" the film. Non-myelinated people will find faults because it doesn't match the way they experience the world. The scary part for BIPOC people in America is knowing that white violence can happen anywhere anytime. We are never safe from that violence.
Brunner: What is your dream how things will change in the United States?
Pinkins: I believe our strength is in our ability to hold the polarities. I hope we can begin to tell the truth of our history, stand in responsibility of all of the truth and do the work to rectify the damage we as a country have done to the world by denying the truth. That is the change I hope to see before I depart the earth.